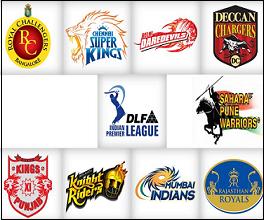 8 May : The Ministry of Company Affairs (MCA) has sent notices to all IPL franchisees, both old and new, asking them to furnish detailed company-related information.
"We have sent notices to all the IPL franchisees to gather all corporate details and we are waiting for them to reply," MCA secretary R Bandyopadhyay said in Kolkata on Saturday on the sidelines of an interactive session with members of Bengal National Chamber of Commerce and Industry.
A period of 45 days is allowed to companies to reply, but extensions are given in the normal course.
There are 10 franchisees in the IPL, including Pune and Kochi which are new.
He said this was not an investigation but "a sort of inspection" with notices being sent to get more details than what were filed with the Registrar of Companies (RoC).
"If we find some discrepancies or violation in our analysis under company law, only then there will be a deeper investigation on the franchisees," Bandyopadhyay said.
However, all inspections and investigations were restricted to corporate details.
"We cannot investigate benami or money laundering. We cannot inspect IPL and BCCI as they are not companies," Bandyopadhyay said. The RoC was likely to collect all details within a week on IPL franchises, including the bidding process, sweat equity, memorandum of association and also franchise agreement.
The MCA action follows controversy over ownership of the Kochi IPL franchise, where Rendezvous Sports World had given 19 per cent of the 25 per cent stake held by it to Sunanda Pushkar, a close friend of Shashi Tharoor, who resigned as Minister of State for External Affairs in the face of allegations that he had misused his official position.