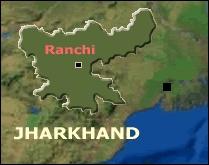 8 Aug : Maoists blew up a school building in Palamau, half an hour before their 24-hour shutdown began in three states, police said in Ranchi on Saturday.
A group of armed Maoists stuffed explosives in the school building around 11.30 pm last night and triggered the blast at Kanda village in Palamau district.
Meanwhile, security has been beefed up following the shutdown called by the CPI(Maoist) in Jharkhand, Bihar and Chhatisgarh to protest the arrest of one of their top leader, Rajesh alias Uday, in Ranchi two days ago.
Rajesh carried a reward of Rs 5 lakh on his head and was wanted in Jharkhand and Chhatisgarh in connection with Naxal violence.