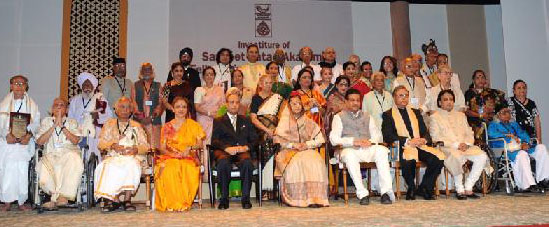 29 Sep : Veteran actor Shriram Lagoo, danseuse Yamini Krishnamurti and classical music exponent Kishori Amonkar were among a host of artistes honoured with the Sangeet Natak Akademi fellowships and awards for the year 2009 by President Pratibha Patil on Tuesday.
Six eminent personalities were conferred Akademi Fellowships for 2009 and 33 artistes received the Akademi Awards.
Giving away the awards, Patil said, "cultural diplomacy is a potent instrument in our foreign policy. Cultural exchanges, I believe, are important to promote understanding between peoples and must be encouraged".
"In today's globalised and integrated world, there are cross-cultural currents and, at the same time, advances in technology are providing newer variants of art and music," she added.
Minister of State in Prime Minister's Office Prithviraj Chavan, who was representing PM Manmohan Singh, said creating archives of performing arts would help academic institutions who could use these materials for educational purposes.
The Prime Minister, he said, had recently mentioned that the technological upgrading of archives is of utmost importance.
"Immediate digitisation and preservation is needed," Chavan, who also holds the culture portfolio, said.
The highest honour of Akademi Fellowship (Akademi Ratna) was conferred on Lalgudi Jayaraman, Shreeram Lagoo, Yamini Krishnamurti, Kamlesh Dutt Tripathi and Kishori Amonkar.
They received Rs three lakh besides a citation and a shawl.
Presently, there are only 32 living Fellows of the Sangeet Natak Akademi.
The eminent representatives from the fields of music, dance and theatre honoured with the Sangeet Natak Akademi Award for 2009 received Rs one lakh.