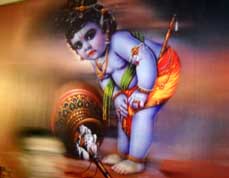 Barinder Saluja, Chandigarh,Sept. 02 : Janamshtami was celebrated with full pomp & show here in the city temples. Devotees thronged the Lord Krishna temples, dressed up in their best and worshiped the Lord with full devotion. Roads leading to the Temples were full of people enjoying the festival shopping & children taking joy rides on road side "jhulas".
Janmashtami, the festival associated with Lord Krishna's birthday, is a combination of religion and celebration together. This festival is celebrated all over India especially among Hindus. Mathura, the ancient north Indian town, is Krishna's birthplace, and it is one of the most sacred places in the entire country. People celebrate this festival with fun, frolic, and merrymaking. The raasleelas, bhajan, kirtan, and various local functions are the special attractions of the place. The celebration generally consists of bhajan, kirtan, chanting of holy mantras and preparation of 'jhoolan' or swing, where the idol of lord Krishna and His beloved Radha is kept and worshiped in the evening. Preparation of sweets and traditional goodies, dressing up small children the same way lord Krishna did in His childhood days, etc., are some of the other important aspects of this festival.
Janmashtami facts are quite interesting to know. People all over the world would find these facts informative and exciting. Know about the different Janmashtami facts on this page of fact file. It will provide you most fascinating information on Janmashtami and its celebrations. This page will serve as a snapshot of information for you. Check out some of informative Janmashtami facts here:
# Janmashtami is celebrated on ashtami of Krishna Paksh or the 8th day of the dar fortnight in the month of Bhadon.
# According to some scholars, Krishna was born on 19th July 3228 B.C.E.
# The term Krishna in Sanskrit means 'black'.
# Lord Krishna belonged to the clan of Yadavas.
# Janmashtami is celebrated around eight days after Raksha Bandhan.
# South India celebrates Gokulashtami with fruits, 'prasadam' and devotional songs.
# Maharashtra celebrates the festival by breaking of 'dahi handi'.
# Janmashtami is also known as Gokulashtami and Krishnastami
# Lord Krishna with Radhaji is worshipped on this day.
# Besides, some people also worship Shri Krishna's brother Balaram as well as sister Subhadra on the day of Janmashtami.