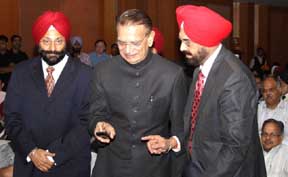 Barinder Saluja, Chandigarh,Aug 12 : Day & Night News, an initiative of Kansan News Private Limited (KNPL), went on air from 11 August, 2010.
Kanwar Sandhu, a well known Journalist of Chandigarh today gave Chandigarh its very own indigenous TV News Channel, i.e. Day & Night News. H.E. Shivraj V Patil, Governor of Punjab, declared open the News Channel by pressing a button on the remote at the Launch of Day & Night News Channel at Taj Hotel Today. On this occasion Mr. Patil said that it is the need of the hour to have such kind of News Channels and is very pleased with the efforts of Mr. Kanwar Sandhu to have taken an initiative of start a News Channel based in Chandigarh, being the first of its kind in the entire region. Besides Chairman of the Group, Mr. Jaspal Singh Kandhari, many other political and bureaucratic personalities were present on the launch.
Day & Night News will be a 24X7 multi-lingual (English, Hindi and Punjabi) quality news channel from Chandigarh. lt will focus on Punjab, Haryana, Himachal Pradesh, Chandigarh, J&K, Delhi & NCR, besides the Diaspora from the region in various other countries. Speaking on the occasion, a day before the launch, Mr. Kanwar Sandhu, Managing Editor, said, "We have a vision to present a credible and quality television news station through serious programming and authentic reportage. We intend to set up a high quality benchmark in news broadcasting space, for which we have scouted the best talent available in the field and invested in state-of-the-art technology and infrastructure.,' This is the vision and mandate of the Chairman of the Group, Mr. Jaspal Singh Kandhari, he added. The News Channel is housed out of industrial Area, Phase 1, Chandigarh.
Besides a very strong editorial team, the Channel has a formidable marketing set up, led by experienced professionals from the broadcast media. Besides, cable operators, the Channel has tied up with three DTH platforms from Day One (Dish, Big TV and Videocon), and IPTV platform providers to achieve high penetration in urban as well as rurat areas across Punjab, Haryana, J&K and Himachal Pradesh, Delhi and NCR area, right down to the smallest tehsils and towns. Tie-ups with some other DTH platforms are also in progress, Mr Sandhu said.
The construct of the schedule with a bouquet of programmes is such that it keeps the viewer engaged without getting bored. Apart from news bulletins, there will be programmes on the news analysis, views, investigations, defence and security, youth & its issues, interviews, food, travel, music, lifestyle & entertainment. "We are.using all three languages – English, Hindi & Punjabi – to give the Channel wide reach in the entire region," Mr. Sandhu added.
The Day & Night Media institute, another venture ,of Kansan News Private Limited, is already functional and the first batch of students is being put through the paces in the six-month capsule course. Kansan News Private Limited will also be launching a newspaper soon, Mr Sandhu stated.