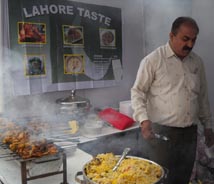 Barinder Saluja, Chandigarh,Nov. 02. : As it is said in Pakistan that, " Jisne Lahore Nahi Vakheya, usne kujh nahi navkheya"…. this is quite true, as it was visible at this years CII fair in Chandigarh, where artisans, traders, manufacturers, folk performers and "Khansamas" displayed their skills. The most visited part of the fair was the food stall where cooks of Lahore tickled the taste buds of the Chandigarians by serving them the best of Non Veg delicacies from Pakistan. The menu included Tandoori Chicken, Grill Chicken, Kalmi Kababs, Chicken & Ghosht Biryani's, Roomali Roti. It was the taste of that very spices which were brought all the way from Lahore and the food was cooked in that special Lahori Style. The aroma which filled the air was mouthwatering and magnetic as no one passed the stall without having a taste of it. Those who were Vegetarians, they too paused for a minute and had a look at the stalls before crossing it thinking, wish I too could taste it.
The other stalls displayed the handicrafts of Pakistan such as Punjabi Juttis from Karachi & Suba Bahawalpur, their traditional Shalwaar Kameeez for gents & Ladies, Carpets, Dry Flower arrangements, Pots and Images Carved out of Marbel. Stalls from Afghanistan, Thailand, Sri Lanka also displayed their skilled craftsmanship with apparells, Jewelery and other items.
The visitors were also enthralled with the sufiana singing by the sufi singer Imported from Pakistan's, suba Punjab, Hafizabad, by the name of Zafar Lohar, who along with his team sang for the whole day, winning lots of appreciation from the audience. The name of his group was Zafar Lohar group, in which Zafar Lohar was on Vocals & Chimta, Riaz Ahmed & Mohammad waliat on Dhol & Mohammad Aslam was on Algoza. He has been singing in this type of style since 30 years now.